---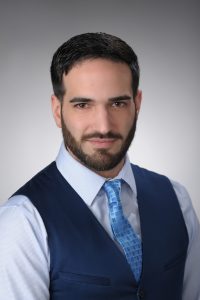 Therapeutic Style: My goal as a therapist is to facilitate the discovery of untapped strengths and resources that students can utilize to address individual goals and promote personal growth. I view therapy as a collaborative process that honors the agency and dignity of students seeking support. I strive to be warm, attuned, authentic and fully present for my students. My approach to therapy is integrative and draws from principles of Developmental Counseling and Therapy. I strive to select both approaches and interventions that meet the specific needs of individual students and broadly support their developmental trajectory. Within this framework, I often integrate body-oriented approaches to psychotherapy, supporting students to work with "issues in the tissues."
Professional Interests: Prior to joining Syracuse University's training program in 2019 and staff in 2020, I provided counseling at outpatient substance use disorder clinics, ASI of Cortland and Syracuse Recovery Services. My clinical specializations are in the treatment of trauma and substance use disorders. I am a member of the Options Team and Sexual and Relationship Violence Response Team at Syracuse University. My clinical experience and interests have broadly included substance use disorders, trauma, disenfranchised grief, anxiety, depression, cultural/identity development, and the formation and maintenance of healthy relationships. In addition to these clinical areas, I have several professional and research interests including identity development throughout the lifespan, mindfulness, neuroscience, innovation in trauma and addiction treatment, and the use of experiential techniques within therapeutic practice. I believe in the importance of advocacy within the counseling field and have centered my advocacy efforts on behalf of individuals impacted by addictions, trauma, homelessness and marginalization within the criminal justice system. I am an advocate for mentorship within the counseling field and I have helped develop a professional mentorship program for counselors in training through Syracuse University's Chi Sigma Iota: Sigma Upsilon Chapter.
Group and Liaison Roles: I have facilitated group therapy for five years in outpatient substance use disorder treatment settings. Many of these groups center around drug and alcohol education coupled with coping skills training. I have led groups in relapse prevention and implemented a mindfulness-based relapse prevention program during my work with ASI of Cortland. For three years I facilitated groups designed to address the complexity of healing from trauma and substance use disorders. I have also facilitated a Dialectical Behavior Therapy Group tailored to substance use disorder treatment.
At Syracuse University I have facilitated/cofacilitated Understanding Self and Others Groups for undergraduate and graduate students, and the Options Education and Prevention Groups. I developed and cofacilitated the Supporting Graduating Students Group to address the unique needs of students graduating during the pandemic, as well as the Dream Exploration Group, and I have assisted in developing the Adventure Based Counseling Series.
Educational Background: I earned an associate degree in chemical dependency counseling from Tompkins Cortland Community College and a bachelor's degree in psychology from SUNY Cortland. I earned my master's degree in clinical mental health counseling from Syracuse University. I am currently engaged in an advanced clinical training program in Somatic Experiencing®, a body-oriented, naturalistic approach to healing from trauma.
Pronouns: He/Him/His