---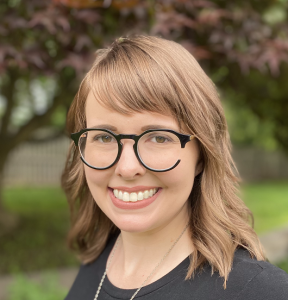 Therapeutic Style: I view therapy as highly collaborative, taking the approach of honoring where the student is at while also promoting a safe and healing space to grow. I draw from several approaches, including interpersonal, cognitive-behavioral and psychodynamic. All my work is informed by feminist and multicultural theory, with an emphasis on empowerment and navigating power dynamics. My goal is to help students gain insight into the problems they're facing while highlighting natural strengths, abilities and resources to help them thrive.
Professional Interests: My professional training has allowed me a variety of experiences. I have worked in university counseling centers, an intensive outpatient agency focused on the treatment of eating disorders, and a community mental health organization centered on accessibility and advocacy for individuals with disabilities. My clinical interests include family systems (including childhood abuse and neglect, and adult children of addicts), body image, identity development, perfectionism, loss and relational conflict.
Group and Liaison Roles: I have extensive experience leading process groups, specifically around women's issues and empowerment. This semester I will be co-facilitating the SoulScape retreat. As the counseling training director, I oversee the clinical training and supervision of our graduate-level trainees. I also serve as a liaison to the corresponding academic departments within Syracuse University we draw our highly qualified trainees from.
Educational Background: I earned a bachelor's degree in psychology from Hobart and William Smith Colleges. I received a doctoral degree in counseling psychology from the University at Buffalo and went on to complete an internship at Illinois State University's Student Counseling Services. Prior to coming to Syracuse, I worked at Hamilton College's Counseling Center where I was assistant director, as well as the founder and primary supervisor of the Peer Counseling Program.
Pronouns: She/Her/Hers