---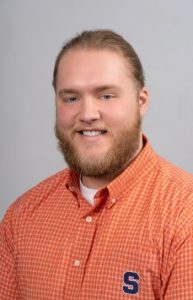 Title: Assistant Director of Satellite Facilities
How I Support Student Health and Wellness: I provide and maintain a safe and welcoming environment at satellite facilities, which mainly include Ernie Davis Fitness Center and the Women's Building. Physical activity is something that should be a part of everyone's life in order to improve upon Barnes Center at The Arch Dimensions of Wellness, including emotional, physical, social and spiritual wellness. Everyone has a unique perspective on fitness, and I work to be inclusive of all tenets of physical fitness to create an unsurpassed student experience when visiting the satellite facilities. I am also a great resource for fitness questions and to help connect students further to the health and wellness team.
Professional Interests: Facility/operations management, innovative exercise technology and equipment, advancements in strength training, student development, and developing a sense of inclusivity and accessibility at all satellite facilities.
Educational Background: Originally from Syracuse, I graduated with a bachelor's degree in exercise science from Syracuse University in May 2018 and have been working full-time within recreation at Syracuse since August 2018. I have developed a strong background in strength and conditioning, and facility management during my time here, and I intend to finish a master of science in sport venue and event management in 2023.
Pronouns: He/Him/His