---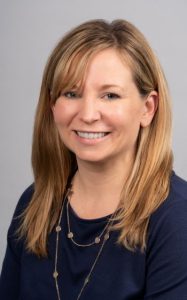 How I Support Student Health and Wellness: I support students by creating space for conversations about food and nutrition. Food misinformation, medical conditions, adjusting to college and a slew of other factors can stir up questions about what to eat and how. Working from a weight-neutral, evidence-based approach, I enjoy collaborating with students to optimize eating patterns.
Professional Interests: My professional interests include the non-diet approach, intuitive eating, gut health and the gut microbiome, polycystic ovary syndrome, disordered eating, food insecurity and grant writing for underserved populations. I am particularly interested in food culture, as well as dietary adjustment and acculturation. Serving as a long-term host parent to high school students from at least 12 countries, I have had the privilege of developing deep connections with and learning from international students around the globe.
Group/Liaison Roles and Classes: In addition to previous employment as a community nutritionist and hospital-based outpatient dietitian, I bring 10 years of teaching experience in college-level nutrition. Creating and facilitating nutrition workshops brings me great joy. Through the Wellness Leadership Institute, I currently present workshops such as Budget Friendly Meals, Nutrition Around the World, Nutrition for a Healthier Heart and Nutrition Myth Busters.
Educational Background: I earned a bachelor's degree in environmental science from Virginia Tech and completed a master's degree in nutrition science along with a dietetic internship at Syracuse University. As a graduate student, I was awarded the William W. Allen Nutrition Scholarship for authoring an approved community nutrition grant proposal. As an alumna, I am eternally grateful for this University, its exemplary people and the quality education I have received.
Pronouns: She/Her/Hers