The Barnes Center at The Arch student health and wellness team is committed to helping create an unsurpassed experience through holistic health. Student staff assist in wellness journeys that encompass the mind, body, spirit and community. In addition to the three Peer Education teams, there are a number of student supervisors that oversee the operations and function of student activities, intramural sports and various programming efforts throughout the Barnes Center and Flanagan gymnasium.
Annually, the Barnes Center at The Arch employs over 400 students. The health and wellness team encourages you to Be Involved. Explore employment and volunteer opportunities today!
Peer Education Teams
There are three Peer Education teams that specialize in different wellness topics. These include substance use, sexuality and relationships, and mental health. Be Wise, Peer Educators Encouraging Healthy Relationships and Sexuality (PEEHRS) and Students Advocating for Mental Health Empowerment (SAMHE), work to combat stigma and advance an array of student health education initiatives on campus.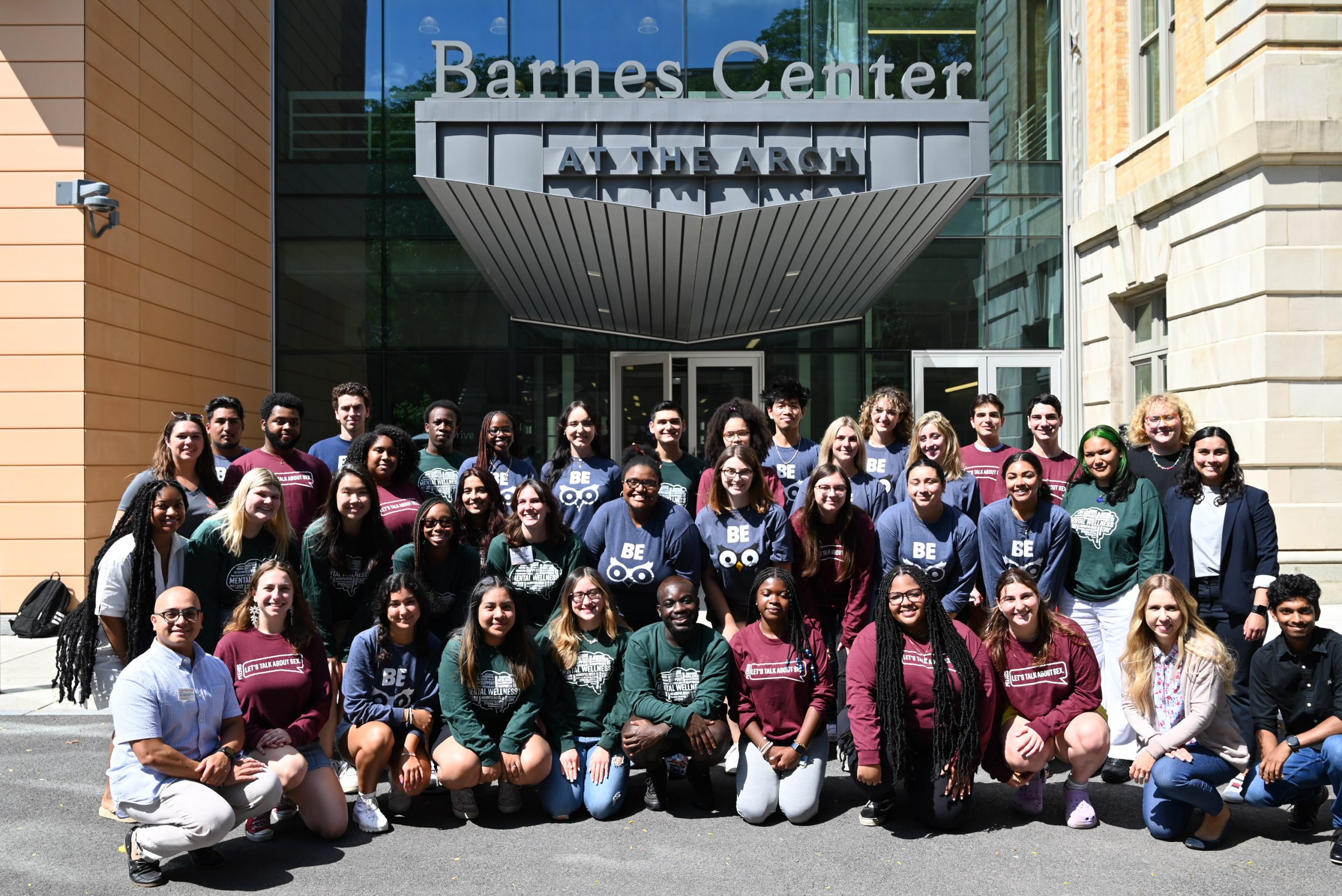 First Row: Vicente Cuevas, Kyra Birenbaum '23, Fabiana Suàrez '23, Kelly Diaz '25, Yhanelly Ruiz '23, Kelvin Boakye '24, Afua Danso Dankwa '24, Symphony Hylton '24, Peri Friedman '24, Rachel Evans, Chaitanya Kunapareddi G'23
Second Row: Diamond Cole, Brooke Kirchner '23, Yvonne Kuo '24, Imani Williams '24, Lily Braden '23, Wynter Chaverst '23, Madison Roberts '23, Adyson Burke '23, Lorelai Mejia '24, Maya Layton '25, CloudySky Khazraishokatkhou '24, Riley Fanning G'23
Third Row: Shannon Hefti, Dashawn Austin '23, Tianna Carrington '23, Siya Kumar '24, Sydney Smith '24, Taylor Koennecke '23, Colette Goldstein '23, Aiden Ciaffaglione G'23
Fourth Row: David Carrillo '24, James Estabrook '24, Kwame Manuh '24, Jada Rudolph '23, Riley Uremovic '23, Nicolas Perez '24, Allan Zheng '25, Kristiana Manriquez '25, Panagiotis Hatzelamprou '23, Zach Nemirovsky '25