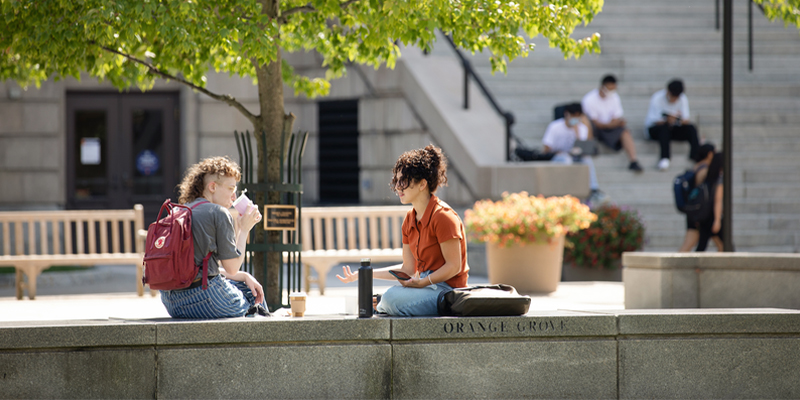 The Orange Success Mentoring Program is about friendship and students supporting students.  It's about being a part of and building a strong Orange community.
---
How does the Orange Success Mentoring Program work?
The process begins with a matching survey that guides pairing supportive of unique interests, experiences and goals. Once paired, returning students as mentors and new students as mentees, share advice and feedback on the student experience. Communication begins virtually through the Orange Success Mentoring Platform and grows per the pairings' unique goals. The Orange Success Mentor Program is free and additional highlights include the following.
Customizable per scheduling and support needs.
Experience guidance and encouragement from fellow Syracuse University students.
Grow friendships and campus connections.
Leadership skill-building and professional development.
---
2022-2023 Orange Success Mentoring Program 
Applications will open the week of Monday, April 25, 2022. The program length is for the academic year and completes at the end of the Spring 2023 semester. However, mentors and mentees are welcome to continue relationships informally beyond then.
---
Resources  
If you are experiencing a life-threatening emergency or you are in immediate danger, call 911.
Learn more by visiting the Barnes Center at The Arch Emergency webpage or by calling 315.443.8000.
24-Hour Support Call 315.443.8000
Syracuse University students experiencing a mental health crisis, seeking support for sexual assault or relationship violence, or needing urgent medical consultation can speak with a provider to receive free confidential services 24 hours a day, seven days a week by calling 315.443.8000. Please note, routine consultations should hold until the next business day.
The Sexual and Relationship Violence Response Team is available 24 hours a day, 365 days a year for students seeking support, advocacy and discussion of reporting options for sexual assault, relationship violence, stalking and harassment by calling 315.443.8000. This is a free and confidential service.
For 24/7, confidential support off campus through counseling, advocacy and providing shelter, students can contact Vera House at 315.468.3260. Students can also learn more about sexual and relationship violence prevention and education through the following resources.
Equal Opportunity, Inclusion and Resolution Services Title IX Coordinator (To report sexual or relationship violence, please email TitleIX@syr.edu.)
Barnes Center at The Arch Health Promotion Staff
Barnes Center at The Arch Peer Educators
The Department of Public Safety is available, 24-hours, 365-days-a-year, working to maintain a safe, secure learning and living environment on the Syracuse University campus and in the surrounding areas. Visit the Department of Public Safety website for additional safety resources.
Call 315.443.2224
Call #78 using a cell phone
Call 711 from a campus landline phone
130 College Place, 005 Sims Hall, Syracuse, NY 13210
This team often serves as a bridge between students, families and Academic Affairs. As the hub for holistic and integrated student support, case managers help students no matter the issue or challenge, and are also a great resource if unsure where to start with a question or concern. Learn more by visiting the Student Support webpage or by calling 315.443.4357 (HELP).