We are excited to have you as one of the newest members of our Orange community. New Student and Family Programs is here to support you along each phase of your personal Becoming Orange journey.
National Transfer Student Week | Oct. 17-21, 2022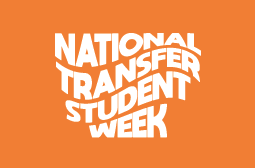 Each year, universities across the country celebrate transfer students on their campuses. New Student and Family Programs, alongside Transfer Transition Leaders (TTLs), will offer various events, social opportunities and sessions throughout the week to support and celebrate transfer students on campus!
View the National Transfer Student Week Schedule
National Transfer Student Week Virtual Alumni Panel
---
Transfer Student Resources
As current students who have transferred to Syracuse University, TTLs serve as mentors to new transfer students. Having gone through the transfer experience themselves, they aid in finding campus resources while building University and peer connections. To help foster friendships and amplify the Orange experience, TTLs host events for all new transfer students. Meet the TTL team today!
Mentors will help answer questions, share event information and help you be involved on campus throughout the academic year. Request a TTL Mentor today!
Prior to Syracuse Welcome, this two day program is designed to help new transfer students connect, answer questions and prepare for their academic career. Explore the Pre-Welcome webpage for more information.