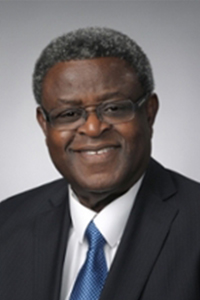 Dr. James K Duah-Agyeman
(Pronouns: he/his/him)
Director
I am originally from Ghana, West Africa, and a member of the Ashanti tribe. I came to Syracuse in 1982 to pursue my PhD in Mathematics Education. I am currently serving as director of the Office of Multicultural Affairs in the Division of Enrollment and the Student Experience. My interest in the student affairs profession is advancing student retention through mentoring, leadership development, civic engagement, and academic achievement. I am committed to educating the whole person to become a global citizen. For my own professional development, I have been trained in couple diversity education models and continue to take certification courses on diversity, equity, and inclusion. Among such courses is "Designing and Building Institutional Antiracist Spaces (D-BIAS) through Coursera, and Cornell's Certification Program on Diversity and Inclusion. I believe in community engagement through programming and serving on boards of community-based organizations. On campus, I have served on various search committees for administrative positions and am currently serving as chair of the Senate Committee on Race, Equity, Ethnicity, and Inclusion as well as the Associate University Marshall for commencements and convocations. I am a Lead Instructor for the First Year Seminar (FYS 101) and CARE facilitator. I enjoy discussions around all aspects of diversity advancing the notion that "diversity is the differences that make us unique." And unless we talk to each other, we will never come to know and appreciate the differences that make each of us unique.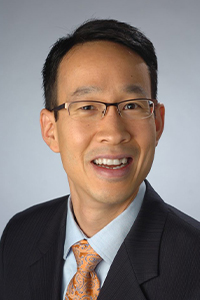 Huey Hsiao
(Pronouns: he/his/him)
Associate Director, Multicultural Affairs and the Kessler Scholars Program
Huey Hsiao serves as the associate director for the Office of Multicultural Affairs and the Kessler Presidential Scholars Program. In his role, he provides leadership and direction on programming that enriches Syracuse University's diverse campus culture and results in students' academic, social and personal success.
First established at the University of Michigan College of Literature, Science and Arts, the Kessler Scholars Program has grown into a network of colleges and universities.  As the leading scholarship program for first-generation students, the program is distinct in that it provides comprehensive support through wrap-around, multi-tiered services to ensure students' success from the moment they enroll to after graduation.  Syracuse University welcomed its first cohort of Kessler Presidential Scholars in fall 2020.
In addition, Huey leads the nationally recognized WellsLink Leadership Program, and coordinates the University's annual celebration of Asian American and Pacific Islander Heritage Month.  Huey also serves on the Chancellor's Task Force on Sexual and Relationship Violence and the Chancellor's Ad Hoc Committee on DACA/Undocumented Students; and he is the Student Liaison for DACA/Undocumented students and students with "mixed-status families".
Huey has nearly two decades of experience in higher education in roles spanning diversity and inclusion, student success, international education, advising, enrollment and recruiting.  From 2006 to 2011, he served as assistant director of student services for M.B.A. and M.S. programs at Syracuse University's Martin J. Whitman School of Management.  Prior to joining the University, he held multiple positions with the Council on International Educational Exchange (CIEE) (1999-2004), including program advisor and program officer and enrollment officer, in addition to a semester abroad as assistant resident director at National Chengchi University in Taipei, Taiwan.  He also taught English-as-a-Second-Language at Nankai University in Tianjin, China, through the Colorado China Council (1997-1998).
Huey was born and raised in North Haven, CT.  He received a bachelor's degree in biology and an Asian studies certificate from the University of Rochester.  He earned an M.B.A. from the Universitat Pompeu Fabra in Barcelona, Spain.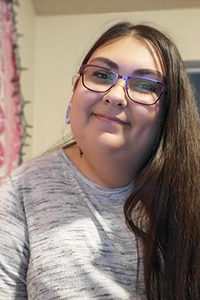 Bailey Tlachac
Program Coordinator, Native Student Program
[sp_easyaccordion id="834"]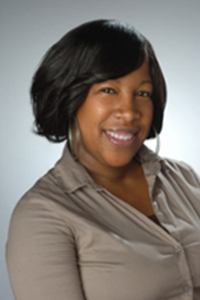 Marissa L. Willingham
(Pronouns: she/her/hers)
Manager of Intercultural Collective & Program Associate for Budgets and Operations
Marissa Willingham joined the Office of Multicultural Affairs (OMA) in October 2006. Currently she serves as the Manager of Intercultural Collective where she supports high-level administrative and operational functions of the Disability Cultural Center, LGBTQ Resource Center and Multicultural Affairs. Marissa also is the Program Associate for Budgets and Operations for OMA where she is responsible for maintaining the office budget, supervising student employees, event planning, and assisting the director and staff.
A native of Syracuse NY with close connections in the Syracuse community, Marissa has served on many committees and has worked on countless projects and initiatives whose emphasis focused on celebrating culture, constructing inclusive spaces, building and maintaining relationships, community engagement, and social justice awareness. Marissa describes herself as a mother of three, and very passionate about the work she does to enrich the lives of people.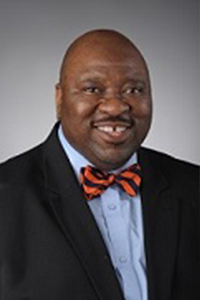 Cedric T. Bolton, M.S.Ed.
(Pronouns: he/his/him)
Coordinator of Student Engagement
Cedric T. Bolton joined the Office of Multicultural Affairs in August 2004 as the Coordinator of Student Engagement. He was previously employed at the University of Minnesota, Twin Cities, where he was an Educational Specialist in the African American Learning Resource Center.  While at Syracuse University, he has designed the spoken word poetry program Verbal Blend, ECLISPE Dialogues, Poetry for the People, Black Men & Women's Think Tank, Poets Learning Community, and coordinated efforts for Black History Month each year.  He obtained a Bachelor of Arts from Western Washington University and Master's Degree in Cultural Foundations of Education at Syracuse University.
Cedric is an adjunct instructor with Renée Crown University Honors Program and the College of Arts and Sciences.  He is a published poet and his poetry can be found in Stone Canoe, Minnesota Spokesman Recorder, Minnesota Saint Cloud Times, and the Post Standard. He has recorded two spoken-word poetry CDs, and published a chap book entitled The State of the Ghetto Address. He has mentored students, staff, faculty and community writers to be confident in their voice and writing for twenty years.  His writer's workshops are the embodiment of community, family, and the continuing presence of "One Mic, One Voice."
He was born in Pascagoula, Mississippi, and was raised in Paterson, New Jersey.  Cedric values and understands the importance of active community involvement and participate on few committees in the greater-Syracuse community.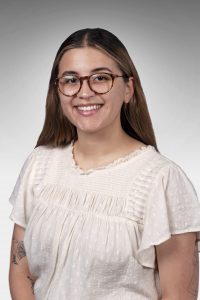 Breana Nieves Vergara
(Pronouns: she/her/ella)
Coordinator of Mentoring Programs
Breana Nieves Vergara joined the Office of Multicultural Affairs (OMA) in July 2021. As Coordinator of Mentoring Programs, Breana is responsible for maintaining both the fullCIRCLE, and Dimensions mentoring programs, as well as leading Latinx Hispanic Heritage Month and supporting the Kessler Presidential Scholars Program.
Breana Nieves Vergara received her Bachelor's in Sociology with minors in Latinx Studies and Education Studies from Ithaca College. During her time at Ithaca College, she was a part of the BOLD Women's Leadership Network, which provided her with the opportunity to pursue a year-long Helen Gurley Brown fellowship post-graduation. As a Syracuse native, who was previously an On Point for College student herself, Breana worked for the organization and served as the Programming Fellow; where she created and coordinated their mentorship program.
Breana is interested in initiatives that focus on guiding students on their academic journeys, as well as creating an environment that encourages identity development and fosters community. In her free time, Breana enjoys spending time with her partner, and their cats, Fernando and Oliver.  She also enjoys exploring waterfalls, trying new recipes, and reading ethnographies.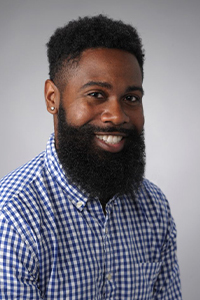 Aaron Knighton
Academic Adviser
Aaron Knighton is an academic adviser in the Newhouse Undergraduate Advising Office and will be working as the coordinator of the Men of Color Initiative in the Office of Multicultural Affairs.  Prior to his role in Newhouse Aaron served as associate director of recreation at Syracuse University, where he worked closely with the OMA staff to create recreational and wellness programming serving OMA students. As an adviser Aaron works with a group of 400 undergraduates on degree progress and requirements for graduation. Aaron also works with students to explore academic interests, identify campus resources, and develop individual academic plans based on the student's goals, interests and degree requirements.
Aaron received is bachelor degree in Childhood Education from Canisius college and his Masters in higher education administration from Canisius as well. Aaron has served in various roles in higher education including residence life, student activities, recreation and wellness, academic advising, and Diversity Equity, and Inclusion.  Aaron has a passion for building relationships with students, specifically providing mentorship for students of color and aiding them in their success on campus.
Aaron is a native of Syracuse, NY and is excited to continue working and serving the Syracuse University community within the Office of Multicultural Affairs. In his free time he enjoys any sport related activity, watching movies, and being with his family.
---
Graduate Assistants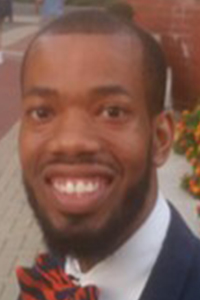 Alonzo D. Turner
fullCIRCLE Mentoring Program
Alonzo D. Turner is a Ph.D. student in the School of Education's Counseling and Counselor Education program at Syracuse University. He serves as a Graduate Assistant for the fullCIRCLE Mentoring Program and is the President of Counselors for Social Justice. Alonzo is originally from North Carolina where he completed his BA in Mass Communications at Winston-Salem State University and MS in Clinical Mental Health Counseling and Ed.S. in Couples and Family Counseling form the University of North Carolina at Greensboro.
Upon graduating from UNC-G, Alonzo began serving at Family Services of the Piedmont where he provided individual and group counseling addressing the mental health and substance issues for clients of marginalized identities. He is a Licensed Clinical Mental Health Counselor (LCMHC) in the state of NC and has several years of counseling experience. Prior to joining OMA, he has served as a Graduate Assistant in Career Services, the Counseling Center at Syracuse University and the Department of Counseling and Human Services.
A proud member of Alpha Phi Alpha Fraternity, Inc., Alonzo helped coordinate the Blackballed: Lecture Series with BGSA and the Office of Fraternity & Sorority Affairs to help address issues of implicit bias at Syracuse University. As a burgeoning counselor educator, he aspires to engage students and clients through approaches that affirm less privileged identities. As a Black feminist, his research explores the intersections of class, race/ethnicity, gender, spirituality, sexual orientation and social justice.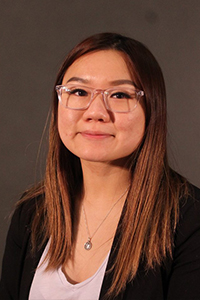 Elaine Lu
WellsLink Leadership Program
Elaine Lu is from Brooklyn, New York. She is a first-generation college student who graduated with a Bachelor's degree in Business Administration from the University at Buffalo. She completed three internships before she graduated with KATZ Americas, UB Blackstone LaunchPad Powered by Techstars, and Blue Cross Blue Shield. Shortly after she graduated, she started working for Amazon as an Area Manager in New York City. She is now a graduate student in the School of Education at Syracuse University working on her Masters in Higher Education.
During her undergraduate career, Elaine was involved with the Residence Hall Association, Alpha Phi Omega (Community Service Fraternity), Delta Sigma Pi (Professional Business Fraternity), and the Undergraduate Management Association. She was also a Resident Advisor for two years and Community Assistant for one year. Elaine likes to go to the gym during her free time and enjoys cooking.
---
Academic Consultants