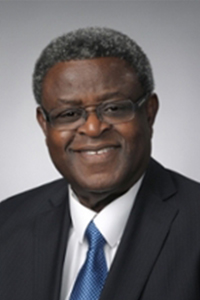 Dr. James K Duah-Agyeman
(Pronouns: he/his/him)
Director
I am originally from Ghana, West Africa, and a member of the Ashanti tribe. I came to Syracuse in 1982 to pursue my PhD in Mathematics Education. I am currently serving as director of the Office of Multicultural Affairs in the Division of Enrollment and the Student Experience. My interest in the student affairs profession is advancing student retention through mentoring, leadership development, civic engagement, and academic achievement. I am committed to educating the whole person to become a global citizen. For my own professional development, I have been trained in couple diversity education models and continue to take certification courses on diversity, equity, and inclusion. Among such courses is "Designing and Building Institutional Antiracist Spaces (D-BIAS) through Coursera, and Cornell's Certification Program on Diversity and Inclusion. I believe in community engagement through programming and serving on boards of community-based organizations. On campus, I have served on various search committees for administrative positions and am currently serving as chair of the Senate Committee on Race, Equity, Ethnicity, and Inclusion as well as the Associate University Marshall for commencements and convocations. I am a Lead Instructor for the First Year Seminar (FYS 101) and CARE facilitator. I enjoy discussions around all aspects of diversity advancing the notion that "diversity is the differences that make us unique." And unless we talk to each other, we will never come to know and appreciate the differences that make each of us unique.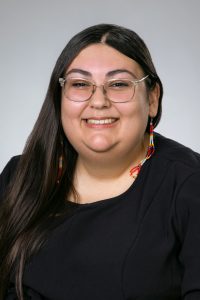 Bailey Tlachac
(she/her/hers)
Program Coordinator, Native Student Program
Bailey Tlachac is a member of the Oneida Nation of Wisconsin, Bear Clan. She is a graduate student in the School of Education, Higher Education program. She is from Forestville, Wisconsin and is a recent graduate from the University of Wisconsin – Green Bay with a Bachelor of Arts in First Nations Studies with a Psychology minor. During her time there, she was the Cultural Resource Specialist in the Education Center for First Nations Studies. She also held multiple leadership positions in Intertribal Student Council where she helped raise awareness about indigenous communities and issues on campus. She was one of the organizers for the installation of Wisconsin's 12 tribal nations' flags. Bailey is honored to be working with the Native Student Program in the Office of Multicultural Affairs. In her free time, she enjoys cooking, photography, learning languages and listening to music!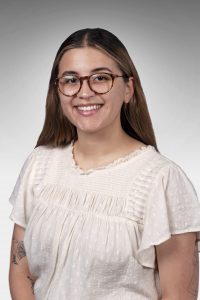 Breana Nieves Vergara
(Pronouns: she/her/ella)
Coordinator of Mentoring Programs
Breana Nieves Vergara joined Multicultural Affairs (OMA) in July 2021. As Coordinator of Mentoring Programs, Breana is responsible for maintaining both the fullCIRCLE, and Dimensions mentoring programs, as well as leading Latinx Hispanic Heritage Month and supporting the Kessler Scholars Program.
Breana Nieves Vergara received her Bachelor's in Sociology with minors in Latinx Studies and Education Studies from Ithaca College. During her time at Ithaca College, she was a part of the BOLD Women's Leadership Network, which provided her with the opportunity to pursue a year-long Helen Gurley Brown fellowship post-graduation. As a Syracuse native, who was previously an On Point for College student herself, Breana worked for the organization and served as the Programming Fellow; where she created and coordinated their mentorship program.
Breana is interested in initiatives that focus on guiding students on their academic journeys, as well as creating an environment that encourages identity development and fosters community. In her free time, Breana enjoys spending time with her wife, and their cats, Fernando and Oliver.  She also enjoys exploring waterfalls, trying new recipes, and reading ethnographies.
---
Graduate Assistants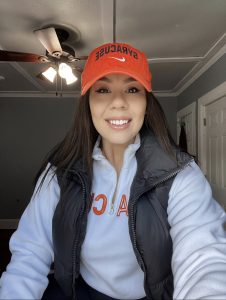 Nicole Smoke
Graduate Assistant, Native Student Program
Nicole Smoke, (Mohawk, Wolf Clan of Akwesasne) is an enrolled member of the St. Regis Mohawk Tribe. She is a first-generation college student who graduated from Syracuse University in 2017 with her B.S. in Human Development and Family Sciences and a minor in Native American Studies. After graduating, Nicole spent a few years working in fields of prevention, community health and wellness, and education. Nicole is now a graduate student in the Higher Education M.S. Program and has recently taken on the role as Graduate Assistant for the Native Student Program here at Syracuse University.
During Nicole's time as an undergrad at SU, she was involved in the Native Student Program and Indigenous Students at Syracuse. She interned at NSP during her senior year and left her mark at SU by creating NSP's Ionkerihonnien:ni Mentor Program for Indigenous freshman and transfer students.
"I am thrilled to be back on campus working with our Indigenous Students. NSP was my home away from home when I was an undergraduate student here at SU. Being a part of this community had such a positive impact on my time here. I am hoping I can give back to the Indigenous students here by providing a safe, supportive, and welcoming environment using the knowledge that I will gain through the Higher Education M.S. Program."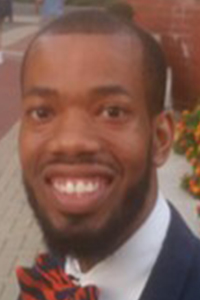 Alonzo D. Turner
fullCIRCLE Mentoring Program
Alonzo D. Turner is a Ph.D. student in the School of Education's Counseling and Counselor Education program at Syracuse University. He serves as a Graduate Assistant for the fullCIRCLE Mentoring Program and is the President of Counselors for Social Justice. Alonzo is originally from North Carolina where he completed his BA in Mass Communications at Winston-Salem State University and MS in Clinical Mental Health Counseling and Ed.S. in Couples and Family Counseling form the University of North Carolina at Greensboro.
Upon graduating from UNC-G, Alonzo began serving at Family Services of the Piedmont where he provided individual and group counseling addressing the mental health and substance issues for clients of marginalized identities. He is a Licensed Clinical Mental Health Counselor (LCMHC) in the state of NC and has several years of counseling experience. Prior to joining OMA, he has served as a Graduate Assistant in Career Services, the Counseling Center at Syracuse University and the Department of Counseling and Human Services.
A proud member of Alpha Phi Alpha Fraternity, Inc., Alonzo helped coordinate the Blackballed: Lecture Series with BGSA and the Office of Fraternity & Sorority Affairs to help address issues of implicit bias at Syracuse University. As a burgeoning counselor educator, he aspires to engage students and clients through approaches that affirm less privileged identities. As a Black feminist, his research explores the intersections of class, race/ethnicity, gender, spirituality, sexual orientation and social justice.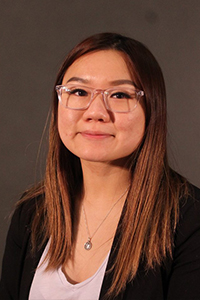 Elaine Lu
WellsLink Leadership Program
Elaine Lu is from Brooklyn, New York. She is a first-generation college student who graduated with a Bachelor's degree in Business Administration from the University at Buffalo. She completed three internships before she graduated with KATZ Americas, UB Blackstone LaunchPad Powered by Techstars, and Blue Cross Blue Shield. Shortly after she graduated, she started working for Amazon as an Area Manager in New York City. She is now a graduate student in the School of Education at Syracuse University working on her Masters in Higher Education.
During her undergraduate career, Elaine was involved with the Residence Hall Association, Alpha Phi Omega (Community Service Fraternity), Delta Sigma Pi (Professional Business Fraternity), and the Undergraduate Management Association. She was also a Resident Advisor for two years and Community Assistant for one year. Elaine likes to go to the gym during her free time and enjoys cooking.
---
Academic Consultants