Fall 2021-Spring 2022
Note: Drop-ins are canceled on 3/14 and 3/15 for Spring Break.
Join career exploration specialists Daniel Pack and Kate Mercer for pop-up drop-in sessions on the second floor of Schine Student Center every Tuesday and Wednesday from 1:30-5 pm.  You'll receive personalized assistance in answering employment/academic major questions, exploring internship strategies, interview preparation, highlighting networking opportunities, and more for all current undergraduate students.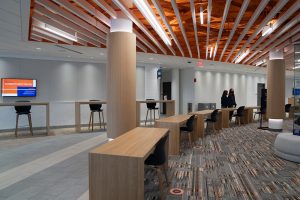 Photo of Schine Student Center Study Lounge by Emily Steinberger