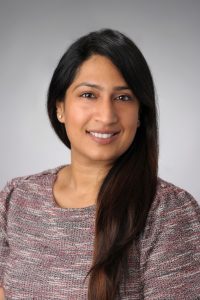 Therapeutic Style: Therapy with me is a collaborative process. My aim is to provide students greater clarity and self-awareness about their suffering and unhealthy patterns. Built on the foundational elements of creative transformation and sound intentionality, I provide a safe space of comfort, warmth and trust that enables individuals to find freedom in their distress.
My theoretical approach integrates mindfulness-based interventions, Empowerment-Feminist Therapy, Interpersonal, Psychodynamic and Attachment Theories and Existential Therapy. I assess for individual historical beliefs and multigenerational trauma. I have deep attentiveness to multicultural issues in counseling, and I work with individuals from a wellness-oriented, holistic lens.
Professional Interests:  My professional training has allowed me a variety of experiences. Prior to coming to Syracuse University, I have worked extensively with adolescents, middle-aged women and families. I have a background in working at a university counseling center and a community mental health organization centered on providing mental health and advocacy services for children and adolescents primarily from marginalized identities. My clinical interests include anxiety, depression, identity development, perfectionism, relationships, trauma, grief and loss.
Groups and Liaison Roles:  I have led a variety of therapy groups in the past. More recently, I have been designing curriculums and leading groups on mindfulness meditation and self-compassion. I facilitate the mindfulness groups at the Barnes Center at The Arch.
Education Background: I earned a bachelor's degree in psychology and a master's degree in clinical mental health counseling from Lindenwood University. I received a doctoral degree in counselor education from the University of Toledo with a research emphasis in mindfulness and self-compassion as wellness interventions. During my clinical training, I worked at the University of Toledo's Counseling Center and later at a private practice to gradually earn my licensure as a Licensed Professional Counselor (LPC).
I am currently undergoing extensive training in mindfulness from renowned teachers in the Insight Meditation Tradition. I am also a certified yoga instructor and an avid practitioner of Yoga.
Pronouns: She/Her/Hers