---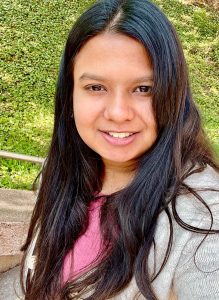 Therapeutic Style : I am keen to create a collaborative space to identify and address unique individual and systemic struggles that students face every day using intervention approaches drawn from existential and humanistic counseling. I hope for each student to be able to imbibe positive change, explore compassion to self and others, and question social constructs and expectations using tools of reflection and explorative dialogue.
Professional Interests: My areas of professional interest include exploring skills to develop emotional resilience, foster inclusivity and discover ways to lead happier and healthier lives. As a person of color and an international student, I am interested to see how diverse lived experiences, culture, community and identity intersect with mental health and healing from trauma. I am passionate about working with underserved populations and engaging in work that actively promotes social justice.
Group and Liaison Roles: I will be process observing the Understanding Yourself and Others group.
Educational Background: I am currently a second-year master's student in the clinical mental health program at Syracuse University. Additionally, I am a research fellow with the Lender Center of Social Justice where my research is focused on exploring identity and self-care practices of mothers in the refugee population. Previously, I earned a bachelor's degree in media studies (journalism) from India.
Pronouns: She/Her/Hers
Languages: English/Hindi